Young at Heart Senior Group
Aisling Irish Community & Cultural Center is the main provider of services and outreach for elderly people living in the Yonkers and Woodlawn areas. We host a popular Young at Heart senior group at the center. This gives our aging population an important social outlet and allows us to offer a multitude of programs to support their physical and mental wellbeing.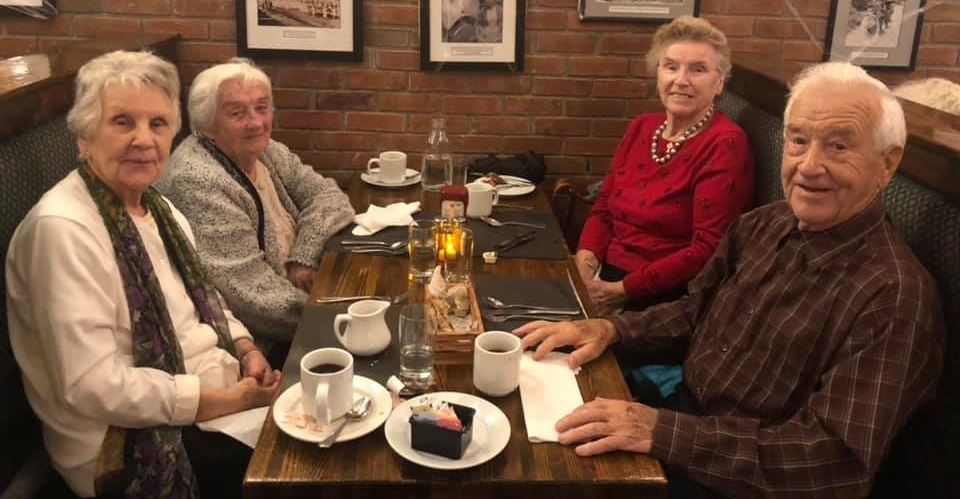 Older adults have changing and diverse needs. Therefore, we offer a wide variety of energizing and enjoyable programs and activities.
Our Lunch Program has been made possible by the generosity of local restaurant and business owners who have committed to catering the lunches on a scheduled basis including: McKeon's Bar & Restaurant, Prime Cuts, Heritage Bar & Restaurant, Avitabile Deli, Hearty & Healthy, Irish Coffee Shop, Rory Dolan's Bar & Restaurant, The Rambling House, The Whistlin' Donkey, The Butcher's Fancy, Saints and Scholars, Sean's Quality Deli, Katie's Cottage and Moriarty's.
GUEST SPEAKERS
The senior program of events also includes guest speakers who come in to talk about various topics which are geared toward preventive care which enhances the mental and physical well being of each individual. Our main goal is to educate our participants with vital information which is relevant to the ageing population.
INDIVIDUAL AND GROUP HEALTH COUNSELLING
A registered nurse comes to the center on a monthly basis and provides individual and group health counselling, nutrition advice; blood pressure monitoring and educational programs to help our senior population better maintain their health and well-being.
SHOPPING TRANSPORTATION
We also offer occasional day trips to shows, places of historical interest, and various shopping trips to local supermarkets and retail stores. We value the input and suggestions from the group members in all areas that pertain to the programming of activities and events.
CASE MANAGEMENT & REFERRAL PROGRAM
Case Management is provided as needed. We have strong relationships with both organizations and individuals that can assist with the needs of our population. We regularly refer people for additional services.
OUTREACH SERVICES
We offer services to home bound seniors in the neighborhood. If you or someone you know is in need of a friendly visit in your home or would like to get information on benefits and entitlements, please call our social worker/senior program coordinator for assistance. Our doors are always open and we are always willing to lend a helping hand.
ELDERLY CARE HOME ASSISTANCE
We are happy to offer guidance and help if you are looking to hire somebody to assist with house cleaning, errands and personal care. We have a database of people looking for this type of work, and would be happy to connect you with them.
Information on SCRIE, HEAP, MEDICARE MSP, EPIC, STAR, and Enhanced STAR is also available. We also assist with the completion of passport applications, pension applications, Centenary Bounty Applications and other forms. We offer links to resources and referrals to a variety of sources within and outside our organization.