Aisling Irish Community Center 25 Year Celebration 6 Weeks to 6K Event!
In celebration of our 25th anniversary, we are running a 6 Week to 6K Walk/Run Challenge in partnership with Clann Health!
We invite you to log on and join us from anywhere in the world for this fun and exciting health challenge. Once registered, you will be given expert training, guidance, and support to help you reach Week 6 successfully!
All proceeds will support the redevelopment of the Aisling Center.
As part of the program you will receive:
Weekly training tips, advice, and Q&As from top coaches
Exclusive private Facebook group access to 6 weeks of challenges and activities to keep you active and motivated throughout the program
A limited-edition special commemorative fitness top celebrating the Aisling Irish Community Center's 25th Anniversary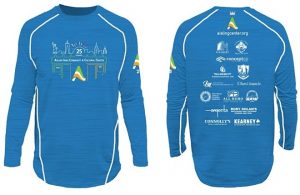 Four 6K Challenge Final Events will be held in Manhattan, Queens, Rockland, and Yonkers
Event 1: Saturday October 23rd, 9AM, Central Park, Manhattan (Meeting Point Connolly's Bar, 121 W 45th Steet 8.30am)
Event 2: Sunday October 24th, 9AM, Juniper Valley Park, Queens 80th Street Entrance
Event 3: Saturday October 30th, 9AM, Rockland GAA Centre
Event 4: Sunday October 31st, 9AM, McLean Avenue, Yonkers